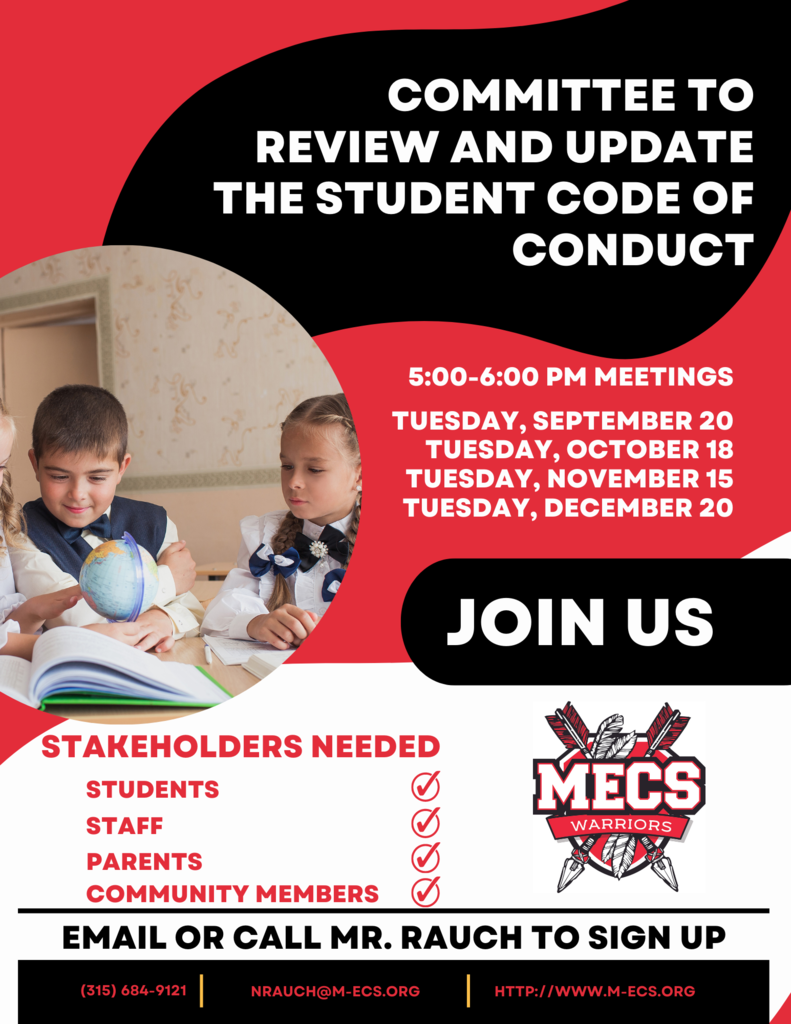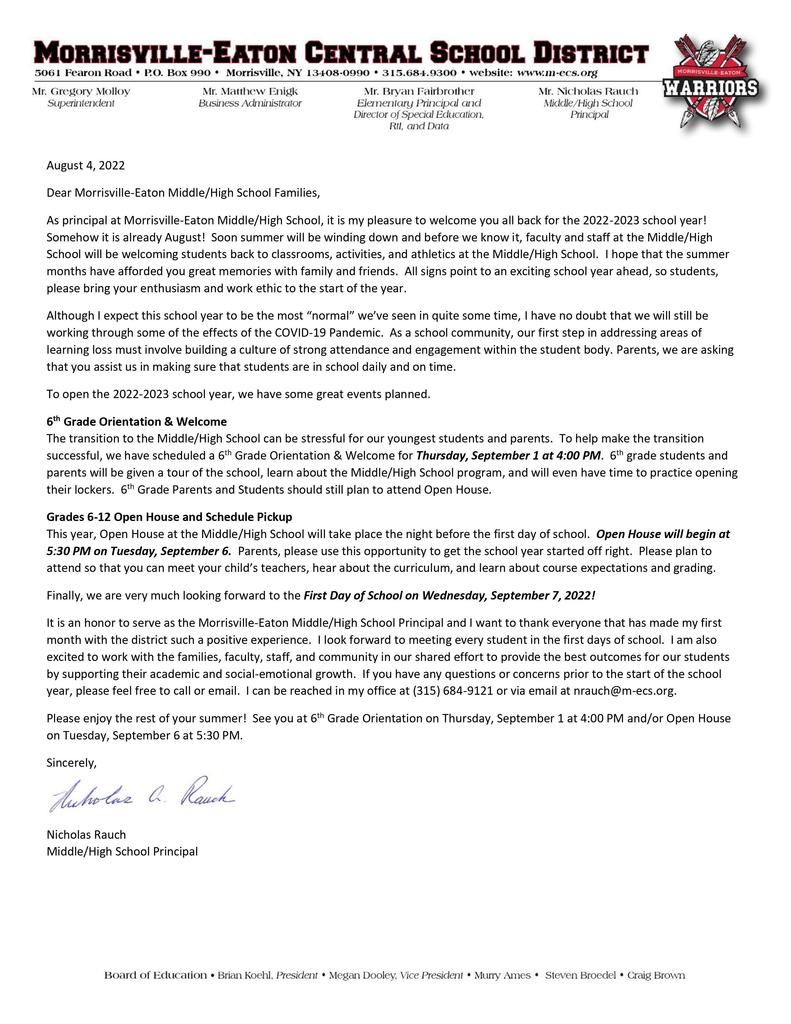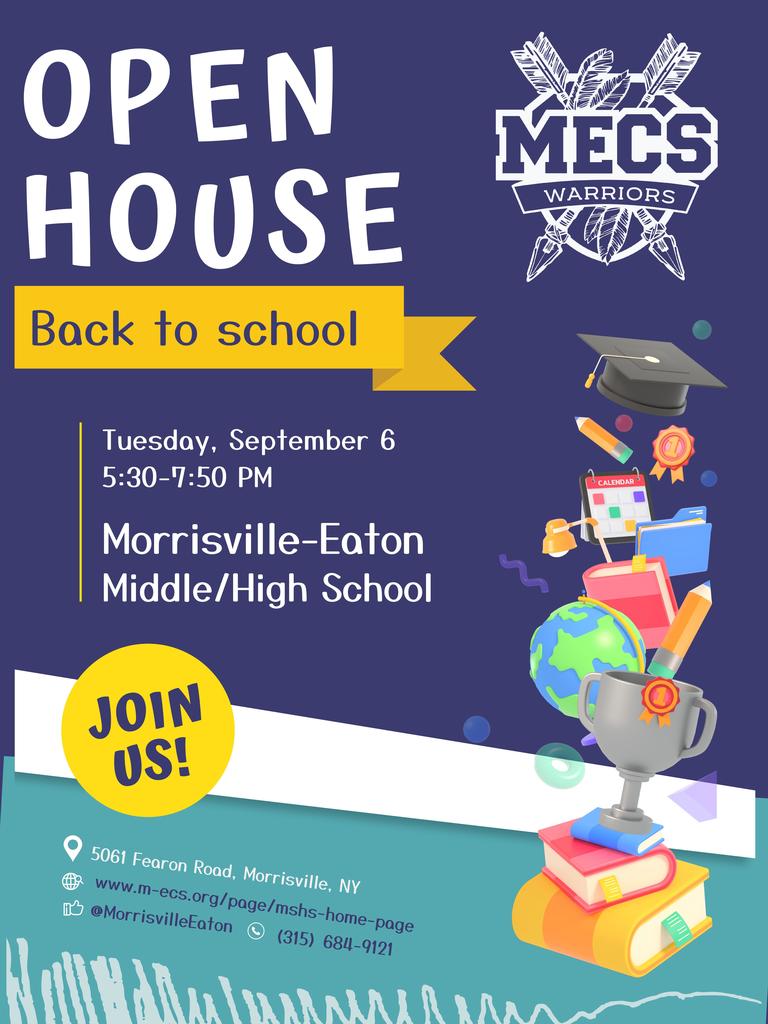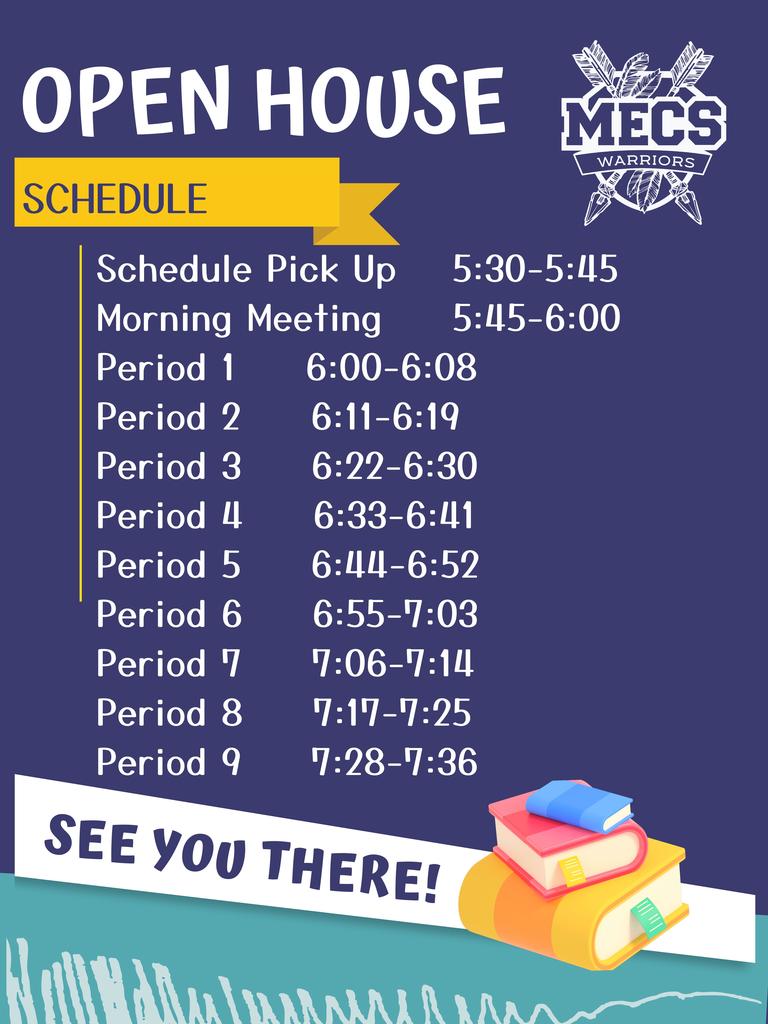 Reminder! Tonight is the first of two Meet the Principal events being held at the Middle/High School. The event kicks off at 6:00 PM with refreshments provided by the Morrisville-Eaton PTO. If you are unable to join us tonight, feel free to attend the second session on Thursday, August 18 at 6:00 PM.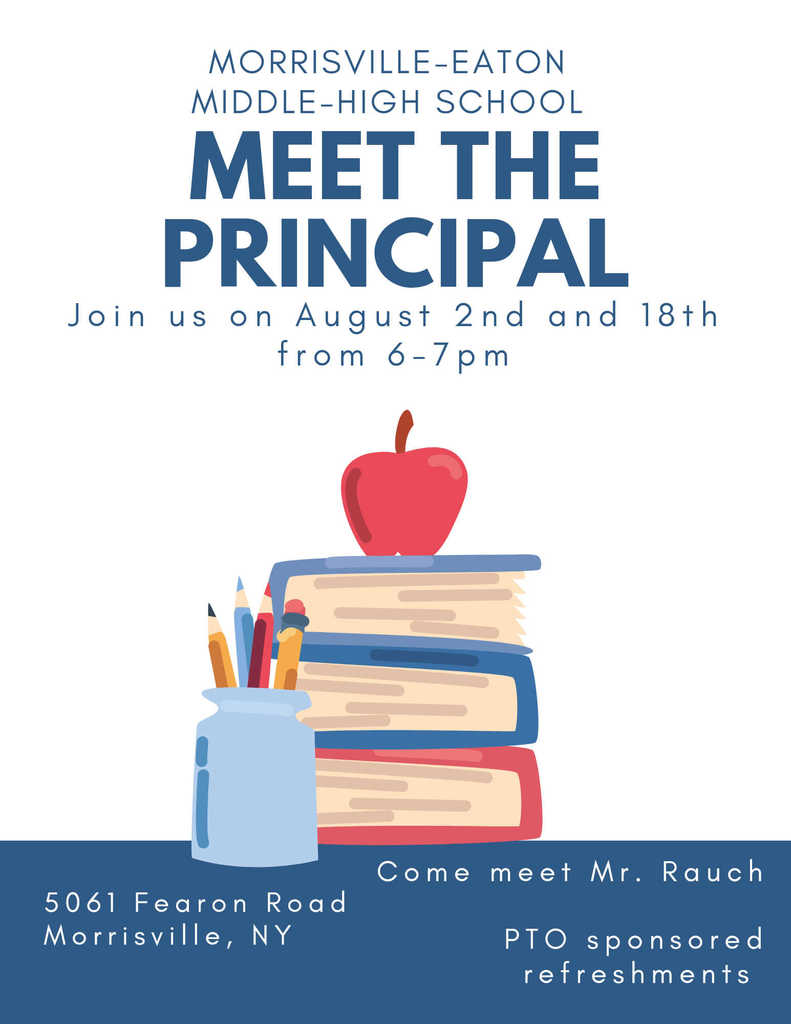 Morrisville-Eaton Central School District serves a rural community approximately 20 minutes south of Oneida, New York. The district consists of nearly 650 students in grades PK-12 and is seeking an outstanding candidate to fill a full-time, tenure track position as a Grade 6-12 Special Education Teacher at the Middle-High School. The candidate must hold NYS Certification in Special Education. Please apply through OLAS and address your cover letter to Nicholas Rauch, Middle-High School Principal. Interviews will be conducted as applications are received.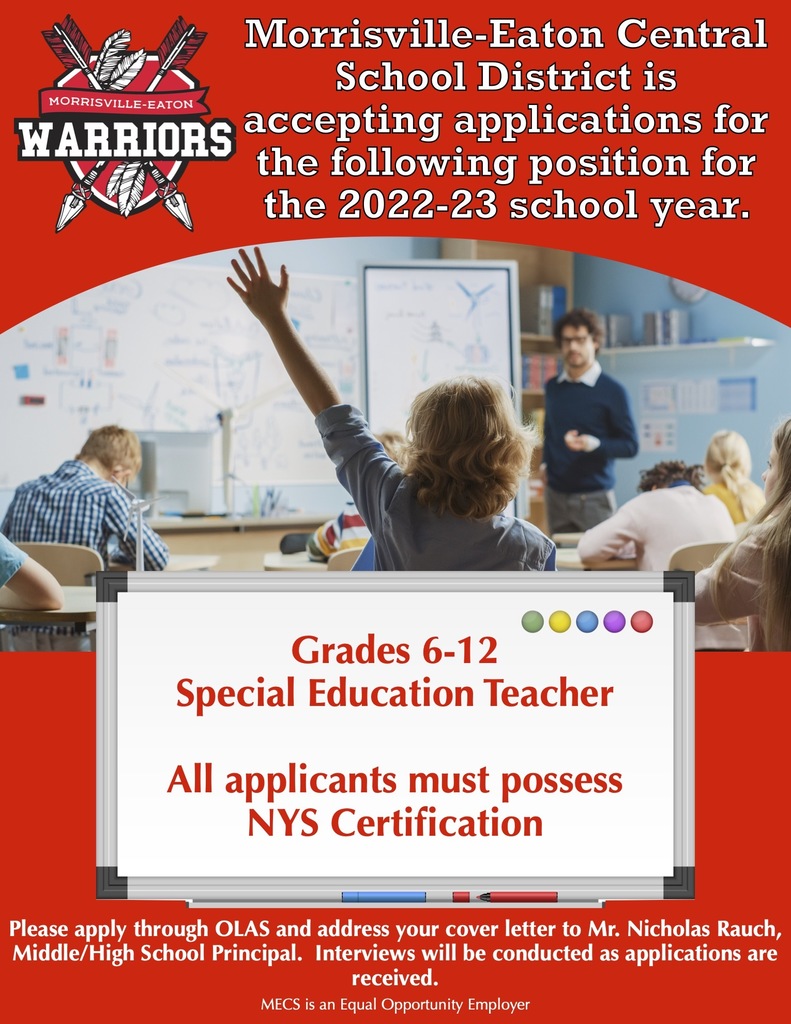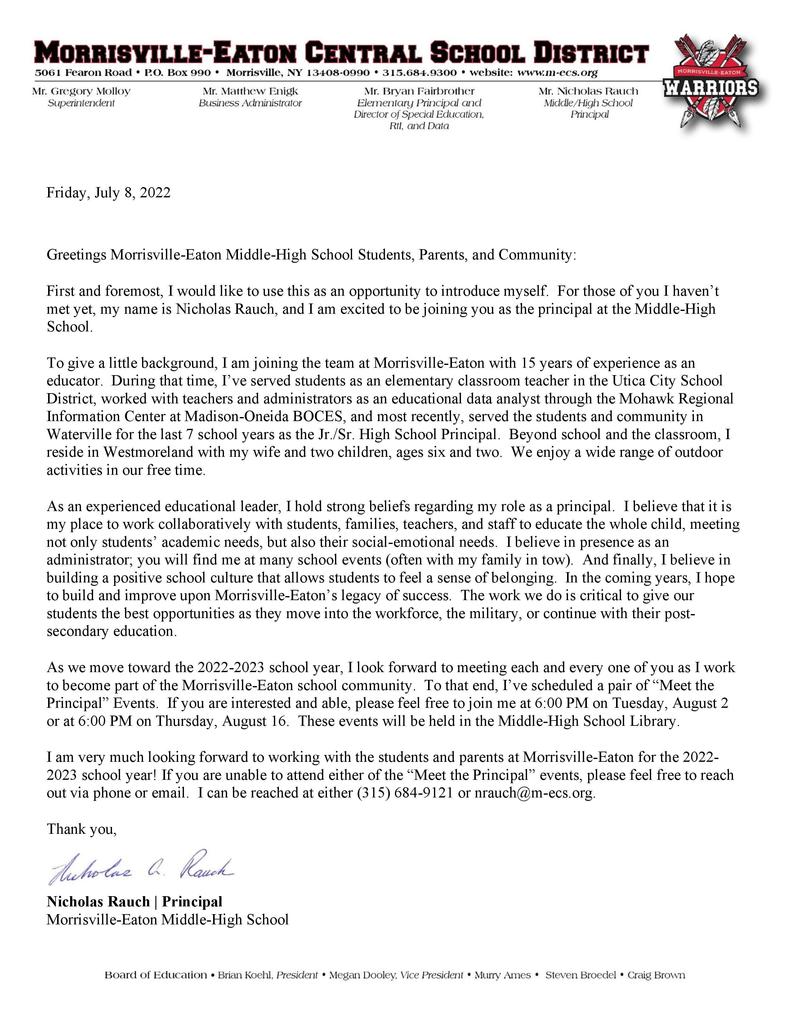 Thank you to all that donated to the Clothes Closet and Food Pantry. We are no longer accepting donations until school reopens in the Fall. If you're interested in donating clothes, please contact Mrs. Lisa Lopez. If you are interesting in donating food in the fall, please contact Mrs. Meaghan Palmer. Thank you again for your donations. See you September!
We have a current opening for a district resident to join the Morrisville Eaton's Audit Committee. Morrisville-Eaton's Audit Committee was established by the Board of Education in response to Education Law 2116-c(4).  The mission of the committee is to provide independent advice, assistance, and recommendations to the Board in the oversight of the internal and external audit functions of the district.   The five-member committee meets two to four times a year based on need. Members collectively should possess knowledge to understand technical financial reporting issues, ability to communicate with auditors, public finance officers and school board and be knowledgeable about internal controls, financial statement audits and management/operational audits. If you are interested in joining this important committee, please contact Mr. Enigk at 315-684-9158.
The Morrisville-Eaton Central School District has the following vacancies: Instructional Positions (In anticipation of need) • Elementary Teacher • Special Education Teacher • Reading Specialist Individuals who possess the appropriate New York State Certification and/or qualifications are asked to apply using the Mohawk Valley On-Line Application System at
www.olasjobs.org/mohawk
Non-Instructional Positions (In anticipation of need) • School Bus Monitor (5 hours/day) If you are interested in applying for a non-instructional position at MECS, please fill out the MECS non-instructional application and mail it to: Morrisville-Eaton Business Office PO Box 990 Morrisville, NY 13408 315-684-9158 Coaching Positions • Modified Football • Modified Boys Basketball • Modified Wrestling • Modified Volleyball • Varsity Field Hockey If you are interested in applying for coaching position at MECS, please fill out the MECS non-instructional application and mail it to: Morrisville-Eaton Business Office PO Box 990 Morrisville, NY 13408 315-684-9158

Class D Baseball Regional - Saturday, June 4th at 1:00 p.m. Morrisville-Eaton @ Deposit/Hancock Game played at Union Endicott High School Ticket Prices are: $9.00 (Students & Adults 11-64) $7.00 (Senior Citizens 65+) Children 10 and under admitted free
MECS baseball defeated Lyme to advance to the Section III Finals. The Section III Championship game is Tuesday - 4:30 at Onondaga Community College. Come out and support the Warriors!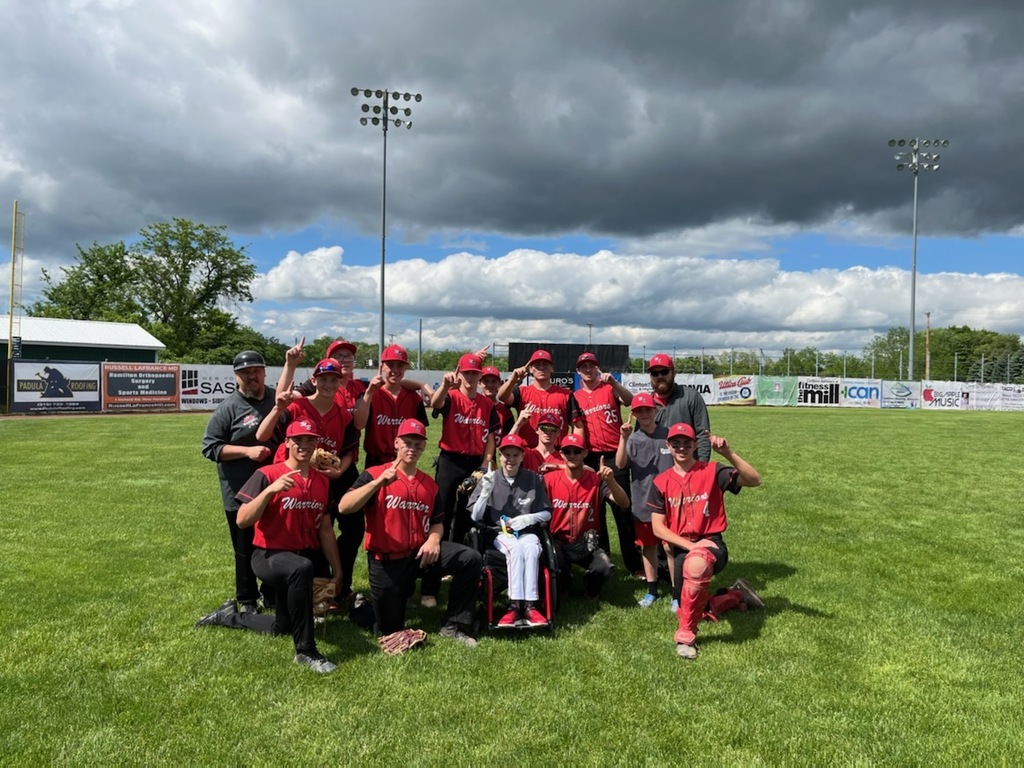 We continue to seek interested parties in the development of the District's Strategic Plan. A single meeting scheduled for June 15th from 4:00PM - 8:30PM has been set to examine our Mission, Vision, Core Values, and Goals. A light dinner will be available to all participants. No further commitment beyond June 15th is required. Please consider taking part in this event if you are a: caregiver of an MECS student, local business owner, teacher, coach, support staff member, or a community member with interest in the school system. If you are interested in serving on this team or if you have further questions, please e-mail the District Clerk, Jodi Shantal (
jshantal@m-ecs.org
).
Good afternoon Warriors! Please be reminded that MECS schools are in session all week including Friday, May 27th. Each year, school districts across New York State are required to implement an "Emergency Go Home Early Drill." In order to be in compliance, MECS school buildings will be dismissing 15 minutes early this Friday, May 27th. This means that students will be arriving home 15 minutes earlier than normal on that day. Additionally, on Friday (5/27), there will be no BOCES-sponsored classes held on the Vernon-Verona-Sherill campus. The BOCES main campus will be operating on a half-day schedule. This means there will be no afternoon BOCES main campus classes on this day.

The bonfire that was scheduled for tonight, May 19th, at the Middle/High School has been cancelled due to the forecast and extenuating circumstances. Looking into a future bonfire - more information to come.
The E. R. Andrews Elementary School is experiencing a temporary outage with their phones and internet. They are working on the problem and hope to have it resolved this morning. In the event of an emergency, please call 315-684-7252.

The Spanish IV class along with their teacher, Ms. Boghosian, traveled to Spain during April break. They spent 10 days in the country visiting the cities of Madrid, Toledo, Segovia, Burgos, Bilboa, San Sebastian, Pamplona, and Barcelona. The group toured many museums and landmarks, saw beautiful landscapes, and experienced the Spanish culture. 🇪🇸 Pictured (left to right) – Ms. Boghosian, Nicholas Brady, Keiffer Koehl, Simon Thomas, Gage Marshall, Gavin Winn, Lacey Priest, Nicholaus Vedder, Jason Schlotzhauer, Ryan Walker, Makenzie Thomas, and Karly Warner.
Due to continued heavy snowfall, fallen trees, power outages, and hazardous roads throughout the district, MECS is closed today, April, 19, 2022.
Due to heavy snow causing hazardous road conditions MECS is operating on a 2-hour delay this morning, April 19, 2022. As a result, there is no AM Pre-K and no AM BOCES. Be safe!
Please be reminded that the Middle/High school will be closed tomorrow - April 8, 2022. The elementary school will remain open, and full-day, out-of-district student programs WILL be in session.
Today, in a story on Syracuse.com, NYS Health Commissioner Bassett noted that Madison County has risen to an increased risk-level for contracting and spreading COVID-19. Masks continue to be optional on Morrisville-Eaton campuses, however they are encouraged in all public indoor spaces in Madison County by the Commissioner and other health experts. For more information from the State Department of Health regarding the COVID levels in CNY, visit:
https://health.ny.gov/press/releases/2022/2022-03-28_covid-19_cny.htm?fbclid=IwAR3ftqFayXt14kCsBhj8YiYd-W4wmnvXKnHqlqznSLoS05KzBg9bhNgexr4
Please note that at this time, MASKS REMAIN OPTIONAL, and the choice to wear one, or not, will be honored by school faculty and staff. Stay healthy, and be safe.