We continue to seek interested parties in the development of the District's Strategic Plan. A single meeting scheduled for June 15th from 4:00PM - 8:30PM has been set to examine our Mission, Vision, Core Values, and Goals. A light dinner will be available to all participants. No further commitment beyond June 15th is required. Please consider taking part in this event if you are a: caregiver of an MECS student, local business owner, teacher, coach, support staff member, or a community member with interest in the school system. If you are interested in serving on this team or if you have further questions, please e-mail the District Clerk, Jodi Shantal (
jshantal@m-ecs.org
).
Good afternoon Warriors! Please be reminded that MECS schools are in session all week including Friday, May 27th. Each year, school districts across New York State are required to implement an "Emergency Go Home Early Drill." In order to be in compliance, MECS school buildings will be dismissing 15 minutes early this Friday, May 27th. This means that students will be arriving home 15 minutes earlier than normal on that day. Additionally, on Friday (5/27), there will be no BOCES-sponsored classes held on the Vernon-Verona-Sherill campus. The BOCES main campus will be operating on a half-day schedule. This means there will be no afternoon BOCES main campus classes on this day.
The bonfire that was scheduled for tonight, May 19th, at the Middle/High School has been cancelled due to the forecast and extenuating circumstances. Looking into a future bonfire - more information to come.
The E. R. Andrews Elementary School is experiencing a temporary outage with their phones and internet. They are working on the problem and hope to have it resolved this morning. In the event of an emergency, please call 315-684-7252.

The Spanish IV class along with their teacher, Ms. Boghosian, traveled to Spain during April break. They spent 10 days in the country visiting the cities of Madrid, Toledo, Segovia, Burgos, Bilboa, San Sebastian, Pamplona, and Barcelona. The group toured many museums and landmarks, saw beautiful landscapes, and experienced the Spanish culture. 🇪🇸 Pictured (left to right) – Ms. Boghosian, Nicholas Brady, Keiffer Koehl, Simon Thomas, Gage Marshall, Gavin Winn, Lacey Priest, Nicholaus Vedder, Jason Schlotzhauer, Ryan Walker, Makenzie Thomas, and Karly Warner.
Due to continued heavy snowfall, fallen trees, power outages, and hazardous roads throughout the district, MECS is closed today, April, 19, 2022.
Due to heavy snow causing hazardous road conditions MECS is operating on a 2-hour delay this morning, April 19, 2022. As a result, there is no AM Pre-K and no AM BOCES. Be safe!
Please be reminded that the Middle/High school will be closed tomorrow - April 8, 2022. The elementary school will remain open, and full-day, out-of-district student programs WILL be in session.
Today, in a story on Syracuse.com, NYS Health Commissioner Bassett noted that Madison County has risen to an increased risk-level for contracting and spreading COVID-19. Masks continue to be optional on Morrisville-Eaton campuses, however they are encouraged in all public indoor spaces in Madison County by the Commissioner and other health experts. For more information from the State Department of Health regarding the COVID levels in CNY, visit:
https://health.ny.gov/press/releases/2022/2022-03-28_covid-19_cny.htm?fbclid=IwAR3ftqFayXt14kCsBhj8YiYd-W4wmnvXKnHqlqznSLoS05KzBg9bhNgexr4
Please note that at this time, MASKS REMAIN OPTIONAL, and the choice to wear one, or not, will be honored by school faculty and staff. Stay healthy, and be safe.

Edward R Andrews Elementary School is seeking support for a complete Kindergarten PE Program, including a fleet of 22 Strider AKB-Specific Bikes, helmets, pedal conversion kits, one Strider 20 Bike for teacher instruction, and curriculum. ❗ All Kids Bike Fundraiser -
https://support.allkidsbike.org/edward-r-andrews-elementary
🚲 Click or tap the link above to find out more information, donate, and see a message from PE Teacher, Kariane Busch! 🚴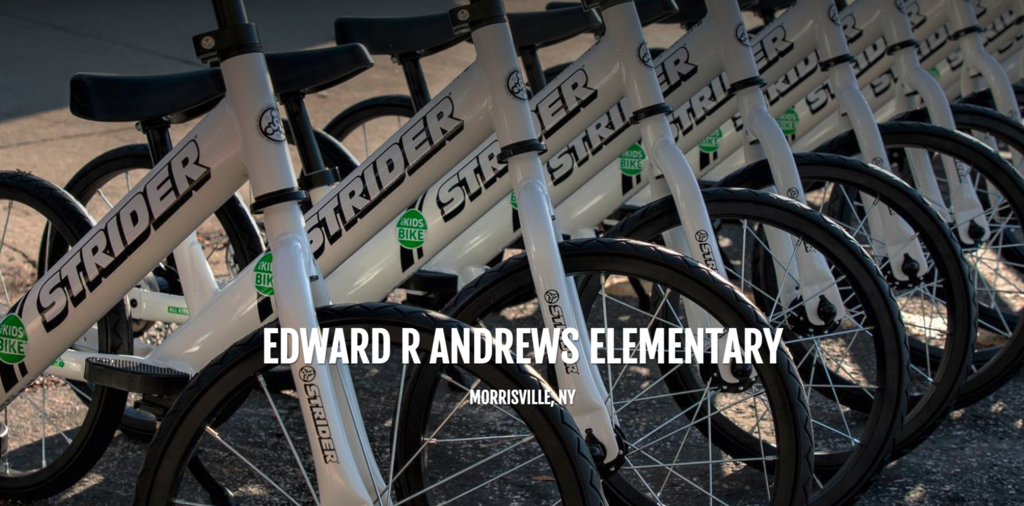 Thanks and appreciation goes out to the members of the Smithfield fire department who have declared our school safe for entry. Schools and programs will open following the 2-hour delay this morning with the exception of AM Pre-K and AM BOCES.
Due to a carbon monoxide safety alarm being investigated at the Middle/High School, MECS is on a 2-hour delay. The delay impacts both buildings and all programs due to the late timing and transportation needs.
Good morning! Due to slick roads and poor visibility, the Morrisville-Eaton CSD is operating on a 2-hour delay today, Monday, March 28th. Stay safe!
Due to hazardous road conditions from the winter storm, tonight's Center Stagers Performance of The Sound of Plaid has been postponed to tomorrow, Sunday, March 13th at 2:00 PM. Support our students and take in a great performance at the new time! Go Warriors!

❗This is a reminder reminder that the PTO Gertrude Hawk fundraiser orders are due by Wednesday, March 9.❗

MECS PTO Invites you to Movie Night! 🍿 Friday, March 4th at E.R. Andrews Elementary. The movie will be Encanto. 🎬 Please arrive at 6 pm in the elementary cafeteria, movie starts at 6:30 pm.🎥 Bring chairs/blankets for a fun and comfy time.
New mask guidance issued by the NYS Department of Health has been posted to the District Website under the Newsfeed. We look forward to seeing the faces of many of our students and staff in the morning!
Last week, MECS joined several other superintendents of the Madison-Oneida BOCES region to write and submit a letter to Governor Hochul, the NYS Health Commissioner, and the NYS Commissioner of Education asking for concrete plans to lift COVID mitigation requirements. We will continue to advocate for our communities for a thoughtful exit plan that is safe for our students, faculty, staff and families. You may view the letter by clicking here:
https://5il.co/16aks
. All of us at MECS appreciate your patience and adherence to current health and hygiene practices. With recent changes made by the CDC regarding mask guidance, we anticipate changes to NYS school mask requirements in the near future. The community will be notified when the school mask mandate is lifted. Be well!
Due to road flooding and icy conditions MECS is closed today, February 18th. Enjoy your winter break!
Due to rapidly dropping temperatures causing icy road conditions, MECS is operating on a 2-hour delay today, February 18th. As a result there is no morning Pre-K and no AM BOCES. Be safe.